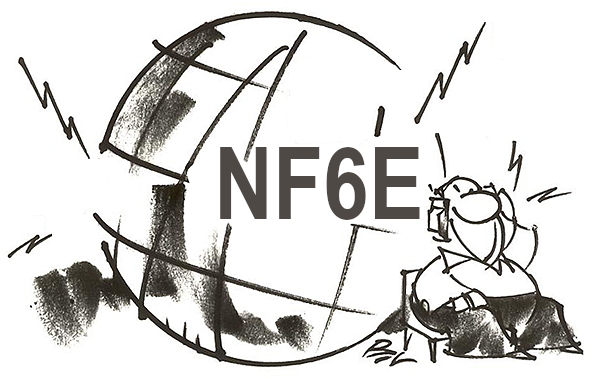 Primary station consists of a Kenwood 570DG feeding a variety of dipoles and end fed wires. Also have a Yaesu FT-817, FT-897 and an Elecraft KX1.
Field station deployed using my battle scarred Buddipole, MP-1 vertical or whatever length of wire I may have on hand.
When in the shack the rig will often sit on or near 10.106-116 or 7.030-40 listening for lonely QRP stations.
---
2010 QRP Portable - QTH San Diego's Balboa Park
2016 ARRL Field Day Portable - Undisclosed Location in Northern Virginia
---
---
---
---
1980 ARRL Official Observer Report for Poor Operation
One of my proudest Novice op moments while running a drifty Heathkit HW-16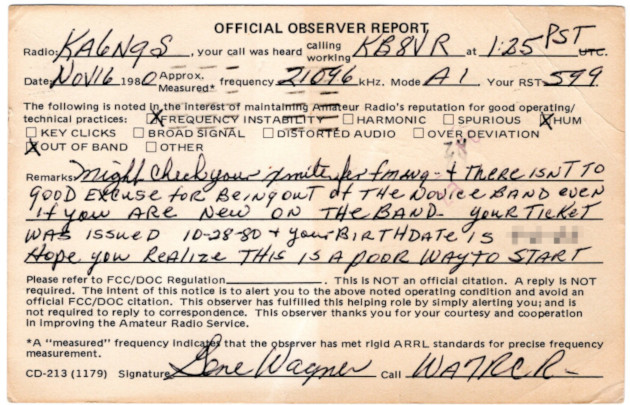 "ARRL Straight Key Night 2009" by N0TU (now WG0AT)
This is an absolutely delightful 10 minute video.
---
- About the cartoon on this site -


Inspected and Approved
Site © 2007-2021 nf6e.com All rights reserved.
Violators will be jammed.
QRA requests to date.